How much farther can PERC go if the monocrystalline surpasses multi-crystalline or has become a trend technology?
1, China: a leader in high hopes.
After the last 630 years, the PV market in the second half of the year was guided by the leader and the poverty alleviation project. As one of the few projects that has not been affected by the 531 new deal, competition for leader's orders has been staged.
For domestic installation in the second half of the year, the China Photovoltaic Industry Association, Wang Bohua, predicts that after June, there will be 6 GW, most likely within 10 GW, 20 GW or so in the first half of the year. In the second half of the year, leaders and poverty alleviation and other projects will get together to install around 30GW.
Let's look at the main players of the leaders: the third batch of China's leaders are allocated according to the developer's classification: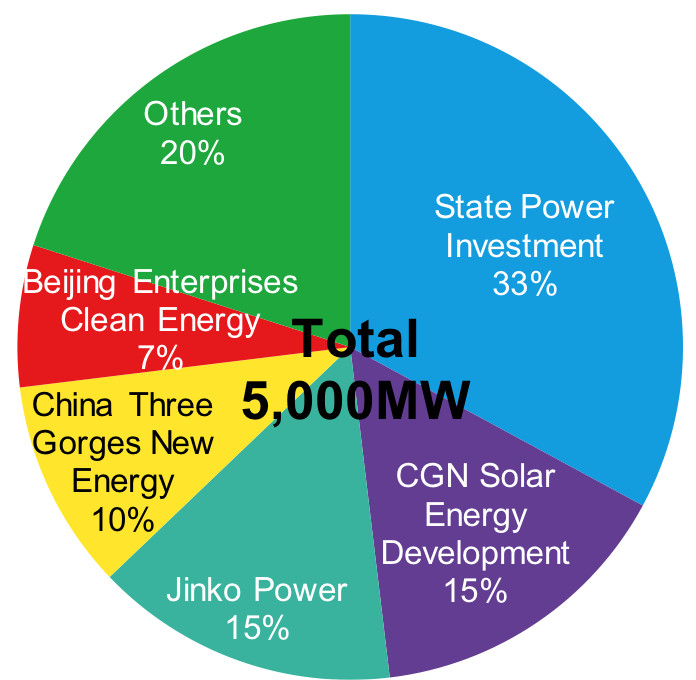 The State Electric Power Investment Corp. has become the third batch of leading base enterprises with 33% quota, followed by China Guangzhou Nuclear and Crystal Technology Corp.
Key point 1: all single crystals, P type double-sided double glass into the mainstream, N catch up.
Because of its important position in China's leading base, the National Electricity Investment Corporation (NEIC) plays a key role in the selection of component technology categories. Recently, the State Electric Power Investment Corporation announced that it will be used in Haixing, Shouyang, Datong Phase II, Dalat, Baicheng five leading base, a total of 1.338 GW component bid results.
Through statistics we can see several points, first, all of them are single crystal components; secondly, P-type PERC single crystal double-sided double glass to 65% of the absolute advantage; thirdly, N-type gradually up; the following is the relevant data comparison:
Figure 2: national power investment 1.338GW leader project winning bid component technology accounted for 1
Key point 2: the price of single crystal 310W PERC components decreased by 0.5 yuan / tile, down 17.85% compared with the same period last year.
Recently, the National Development of New Energy 300 MW high-efficiency pioneer component mining open tender, according to the national development of new energy bid opening price, the average price of each segment in 2.27-2.28 yuan / watt, the lowest price of 2.08-2.42 yuan / watt, there is a big difference.
The 531 Circular has a significant impact on the market price. Within a month, the price of 310W PERC module of single crystal decreased by 0.5 yuan per watt, 17.85% - 18.5% compared with the same period of the same year.
Meanwhile, CNCA announced tender information for its 815MW Leader Components, including single crystal, polycrystalline and double glass components.
China can build relatively comprehensive requirements for the bidding of components, from the component technology selection point of view, the proportion of single crystal more than polycrystalline has become a normal, compared with the bidding of the State Electric Power Investment Corporation, can build bidding more "friendly people", here we see some second-line photovoltaic manufacturers into the list of bidding candidates, such as: Hunan Red Sun, Tang Shanhaige new energy and so on.
Key point: 12GW estimate installation quantity
Recently, India's Ministry of New and Renewable Energy announced that the 40GW solar Park and the implementation of the ultra-large-scale solar project schedule from 2019-2020 to 2021-2022.
"The new and Renewable Energy Commission plans to establish at least 50 solar parks through the draft, each with a capacity of more than 500 megawatts; therefore, the target is about 40,000 MW of installed solar capacity, including those approved under existing plans."
Specific reference click hyperlink: 40GW! India's 50 ultra-large-scale solar energy project development program (draft original)
In recent years, India has become the third largest photovoltaic market in addition to China and the United States. In fiscal year 2017, India added about 9GW of photovoltaic units. In fiscal year 2018, the photovoltaic construction plan will be as high as 11GW, and the installed capacity is expected to reach 12GW.
In a recent auction of a 2GW interconnected solar power project in India, the price of solar power in India hit a low of 2.44 rupees per kWh ($0.036, RMB 0.235). This is the first time since May 2017.
Affected by domestic influence, overseas PV modules began to decline.
After the release of the 531 photovoltaic policy, although there were several follow-up supplementary documents, the substantive supporting documents were not seen. Before the industry rumors, households will be loosened policy, some people say 1GW, how to wait.
What I want to say here is that the current environment is not good, and fantasies about subsidies, as in the past, will only be eliminated. Good businesses are struggling to survive, not before the dawn of parity.
To put it bluntly, in addition to the pioneers, the second half of the domestic aircraft installed for the affected area - poverty alleviation, so we focus on poverty alleviation related policies. After the 531 notification, the poverty alleviation project basically replaced the previous centralized power station, and the ordinary centralized power station became history.
According to the photovoltaic news, the state will hold a photovoltaic poverty alleviation work conference in July, and officially issue the "photovoltaic poverty alleviation power station management measures" policy interpretation, the document will focus on solving the "photovoltaic poverty alleviation power station management measures" before the release of the local self-organized, with a poverty alleviation nature of photovoltaic power stations and new policies.
At the same time, the principle of "old projects, new projects, new methods, projects that do not conform to the new and old methods are not listed as national photovoltaic poverty alleviation projects, do not enjoy the national photovoltaic poverty alleviation policy, as a general project management" is put forward.
Three production and manufacture
1. Start-up rate of silicon materials and wafers is 3-40%. Start-up rate of large factories of batteries and components is less than 6-70%. Some photovoltaic manufacturers have already announced plans to expand production to start or stop.
Specifically, we can refer to: 531 new policy continuous fermentation: sharp reduction in production, excess capacity, and future strategies.
2. Efficient components become a must for this period of time, this can be seen by the leader: P-type PERC single crystal double-sided double glass 310W module has become the main force, 370W everywhere, N-type also has a bright performance.
Take the national power investment 1.338GW leader's project winning component classification as an example:
There is another point: all double sided glass components.
Double-sided startup, in a sense, is more conducive to the development of N-type, compared with PERC, high double-sided factor has become a major advantage of N-type technology to capture market share, HJT, N-PERT double-sided factor can be higher than 90%, IBC double-sided factor is about 80%, and PERC double-sided factor is the lowest, about 70%.
For this reason, PERC in the next step to improve efficiency, is expected to improve the mainstream efficiency of single crystal PERC batteries in the second half of the year, Longji and Crystal have all the existing single crystal PERC production lines with selective emitter technology (SE), the average efficiency of the battery increased by 0.2-0.25%. PVInfolink expects that the domestic PERC production line will have more than 20GW capacity allocation on SE this year.
According to the PVInfolink table, we can see that the silicon material and silicon wafer have gradually slowed down. However, prices of single-crystal products have fallen more sharply in the recent past after polycrystals, and component average prices across the country are continuing to collapse due to weak global demand in the third quarter.
It is understood that many project developers in the industry have halted their projects and waited for the start of the project. Their expected value of components is said to have dropped to 1.7 yuan / watt in the third quarter. However, recent reports show that 1.7 yuan components have been circulating in the market.
China: controversy over non subsidy projects, direct electricity trading in Heilongjiang, 1-5 month outlook
1, photovoltaic faucets respond to the 531 strongest voice: the first national subsidy free distributed photovoltaic project started
On July 3, the country's first non-subsidized distributed photovoltaic project was launched in Changzhou Jintan. The project will be built on the roof of more than 110,000 square meters of Changzhou New Factory Area of Yongzhen Science and Technology. It is expected to be installed at 10 MW. The project was put into operation by Yongzhen Science and Technology and Tianhe Solar Energy Co-operation. After completion, the estimated daily power generation capacity of 40,000 degrees will be used for the self-supply power generation of Yongzhen Science and Technology Plant. Without subsidies, the cost can be recovered for about five years. (source: New Energy Intelligence Bureau)
2. Heilongjiang Electric Power Direct Trading Scheme makes photovoltaic enterprises panic, and the ground photovoltaic power stations may be in total loss.
The scheme requires photovoltaic and wind power enterprises to participate in direct electricity trading forcibly. Among them, 1050 guaranteed utilization hours were approved for 2018, and the generation part exceeding the approved utilization hours was executed by 0.06-0.08 yuan/kwh.
If the above rules are implemented, the income of more than 900MW ground photovoltaic power stations in Heilongjiang area will be greatly affected. At present, the annual effective utilization hours of photovoltaic in Heilongjiang are about 1500 hours. (source: PV)
3. Wang Bohua's latest photovoltaic situation and outlook: 13-14 GW grid-connected from January to May, and 30GW or more installed in 2018. (source: PV 100 million)
1. Softbank, Sprng and Ayana become the lowest bidder of 750MW auction in Andhra Pradesh, India.
The winning price for the latest solar auction in Andhra Pradesh, India, is 2.70-2.71 rupees per kWh, or $0.0391-0.0394 per kWh. (source: PV-Tech)
2, 28.9%! Alta Devices, a new record for the conversion efficiency of GaAs solar cells
Alta Devices, a subsidiary of Hannon Holdings Ltd., a professional GaAs photovoltaic manufacturer, set a new record of 28.9% solar cell conversion efficiency and was certified by the National Renewable Energy Laboratory. Alta Devices has always been the world record holder for the efficiency of GaAs solar cells. (source: PV-Tech)
3, the other side of the mountain: 1.92GW, the United States 1-5 month solar installed decline.
From January to May 2018, 6646 MW was added to the U.S. natural gas plant, compared with 1956 MW for wind power and 1921 MW for photovoltaics. The surface of renewable energy looks good, but in fact, there has been a downward trend.